Icelaine,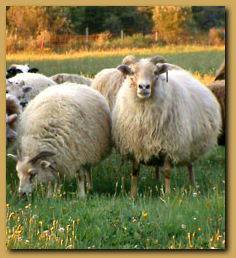 is a micro company which specializes in the design and the clothes industry of products of wool, artisanal and top-of-the-range.
The workshop is located on our farm. The raw material comes from our own breeding of Icelandic sheep thorough-bred.
The shearing of the sheep, selection of wool and the manual cleaning of the fleeces is proceeded within the farm, at spring and autumn (see Activities).
Washing, carding and the spinning are carried out with a micro wiredrawing mill of the area of the lake St-Jean.
The wool which we get from the Icelandic sheep, has several astonishing characteristics. The great quantity of natural colors enables us to make splendid exclusive and single knittings without the use of dyeing.
The Icelaine products are available on our internet site, and in some specialized stores (see Activities).